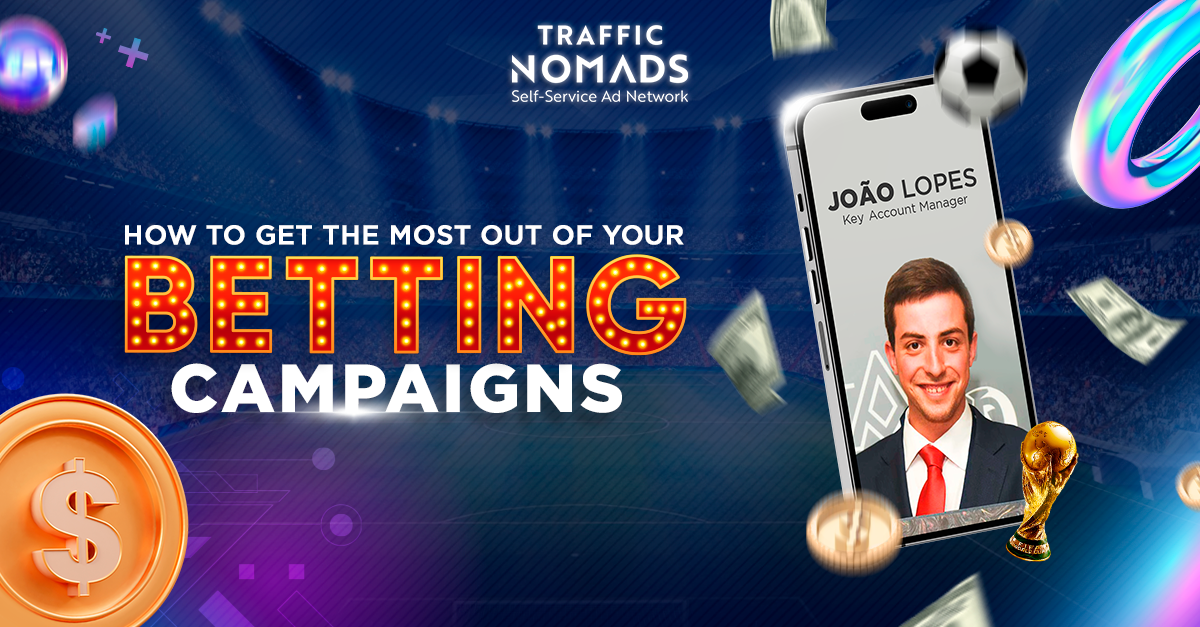 ⚽⚽ During the last World Cup we saw that the traffic on streaming and sport news sites increased a lot. But during 2023 there are also several sporting events that bettors will be very attentive to. That's why we asked João Lopes, our account manager who handles most of the betting campaigns, what he expects for this new year:
❓️ In which countries do you see the most activity from betting advertisers? We know that there are many countries with tight regulations, is there a way around it?
🧐 Right now, our top countries for Betting are BR, PT, ID, CG, SN, CI, GH and KZ. We are seeing a huge evolution on the traffic in Africa specially in low-income countries, where I do believe there's still room to scale the numbers.

❓️ What types of campaigns work best? Do you think it makes sense to adapt creativities and landing pages to everyday events?
🧐 As we always say, there's no good guessing such as testing 😊 What we're seeing as converting good is to run 2 types of campaigns simultaneously: one permanently promoting the landing page and the regular flow; and another one, targeting specifically some huge events such as Champions League matches, World Cup, Cricket important matches, Tennis Grand Slams, etc. I recommend starting always with a generic one and then create specific campaigns for these events if you have possibilities to set those creatives.

❓️ In which formats and sports do you see the best results?
🧐 In my opinion, Pops traffic is the best for Betting campaigns, specially when your landing page is too generic or you're promoting a not-so-famous brand. Since Pops traffic are the cheapest we can offer, it's also the ad format where you see more information, making it easily scalable and optimizable. When you have a strong brand or, on the other way, you're pushing for your branding recognition, my advice is to launch Display campaigns such as Push, In-Page or Banners campaigns. These formats work particularly well with sporting events and big bonus announcements.

❓️ Which KPIs should we pay attention to and how should we manage each campaign according to the results obtained?
🧐 This is a market where you usually get paid on Revenue Share (RS) or an Hybrid model with a First Time Deposit (FTD) plus a percentage of the RS. It's hard to optimize a campaign based on the FTD's or the deposits made by the users so my advice is to keep it simple as set our Postback to the Registration (the Lead). When you're optimizing a campaign, it's easier to identify the sources and zones that have more registrations and, therefore, are more likely to top-up and generate revenue to you. I would also pay attention to the CTR, specially on Display formats, as they can give you an idea how your brand (and your creatives) are being understood by the market. Always test new creativities and keep them fresh to the users.

❓️ How do you see the affiliate marketing betting industry in 2023?
🧐 We had a huge end of the year due to the FIFA World Cup in Qatar, but this Q1 is not to put your campaigns down. In this Quarter, we'll have the always exciting Super Bowl and the thrilling Cricket World Cup tournament in India. These 2 events can generate huge volumes if you set the proper targeting (US for the first, Southern Asia for the latest). Until the end of the year there're some also great events to explore such as the Champions League final, the FIFA Club World Cup and the Rugby World Cup. This year, I would also pay attention to the Special Olympics World Summer Games. The year is full of opportunities with targeted LP's for these great events, innovative creatives on Display formats and groundbreaking geos!
With all these insights, you'll feel more comfortable scaling up your betting campaigns with Traffic Nomads. You already know that you can count on the knowledge of your Account Manager to guide you in everything you need.
If you are not registered yet, please do so here