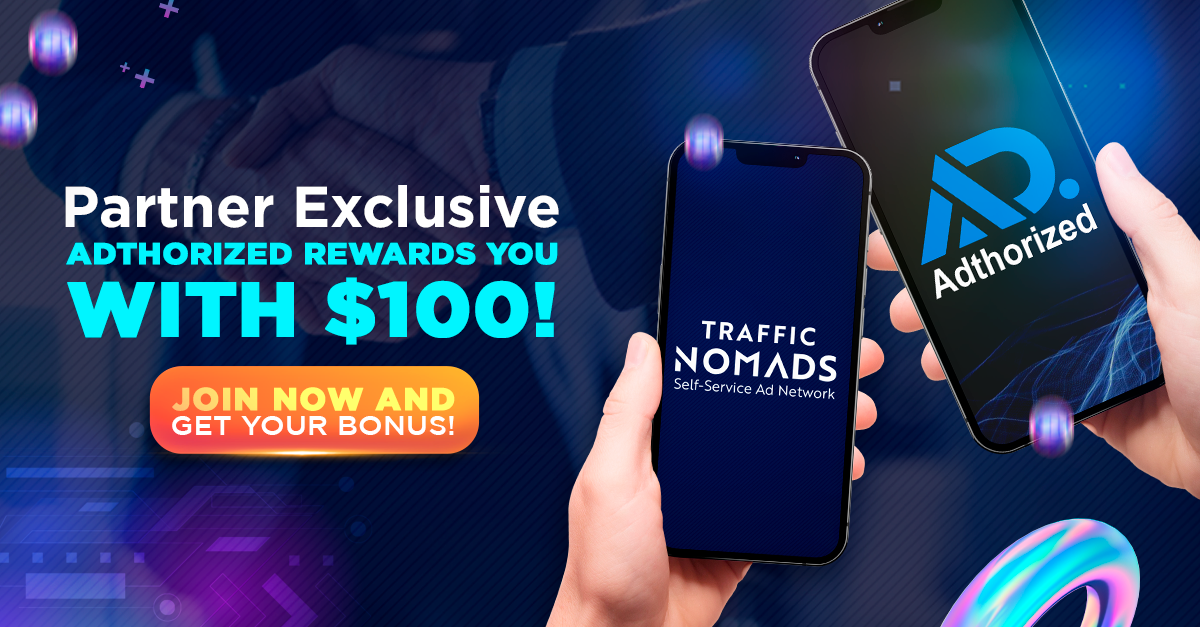 𝗪𝗲 𝗮𝗿𝗲 𝗽𝗿𝗼𝘂𝗱 𝘁𝗼 𝗮𝗻𝗻𝗼𝘂𝗻𝗰𝗲 Traffic Nomads 𝗲𝘀𝘁𝗮𝗯𝗶𝗹𝗶𝘀𝗵𝗲𝗱 𝗮 𝗻𝗲𝘄 𝗽𝗮𝗿𝘁𝗻𝗲𝗿𝘀𝗵𝗶𝗽 𝘄𝗶𝘁𝗵 𝗼𝗻𝗲 𝗼𝗳 𝘁𝗵𝗲 𝘁𝗼𝗽 𝗽𝗲𝗿𝗳𝗼𝗿𝗺𝗮𝗻𝗰𝗲 𝗻𝗲𝘁𝘄𝗼𝗿𝗸𝘀 𝗶𝗻 𝘁𝗵𝗲 𝗶𝗻𝗱𝘂𝘀𝘁𝗿𝘆, Adthorized!
With a main focus on the dating vertical, the company is expanding its reach to other high-performing verticals, including cams, sweepstakes, nutra, casino and astrology.
Benefits of working with Adthorized:
⭐️ in-house and exclusive Dating offers;
⭐️ 4000+ WW offers;
⭐️ efficient Dating Smartlink;
⭐️ minimum payout is $250;
⭐️ flexible payment terms;
⭐️ quality customer support.
𝗙𝗼𝗿 𝗲𝗮𝗰𝗵 𝗧𝗿𝗮𝗳𝗳𝗶𝗰 𝗡𝗼𝗺𝗮𝗱𝘀 𝗽𝗮𝗿𝘁𝗻𝗲𝗿 Adthorized 𝗴𝗶𝘃𝗲𝘀 𝗮 $𝟭𝟬𝟬 𝗯𝗼𝗻𝘂𝘀 𝗳𝗼𝗿 𝘁𝗵𝗲 𝗳𝗶𝗿𝘀𝘁 𝗽𝗮𝘆𝗺𝗲𝗻𝘁!
Check out the top offers of this week and choose the best ones for you to start with:
💵 Sexttok – US – DOI – WAP – $2
💵 Caldincontri – IT – DOI – WEB/WAP – $2.3
💵 Senior2match – PL – SOI – WEB/WAP – $0.7/$0.5
💵 Wildscrew – UK – SOI – WEB/WAP – $1.5
💵 Epsilion – UK – DOI – Mob – $2.5
💵 Frechermilfclub – AT, CH – DOI – WEB/WAP – $5/$3.6
💵 RencontreInsta – FR – DOI – WEB – $4.1
Register at https://adthorized.com/ mention that you came from Traffic Nomads promo and get access to more offers and rewards 💰