Traffic Nomads is a self-service ad network built for all kinds of media buyer profiles: digital marketing agencies, content providers or independent media buyers. Whatever your level of expertise is, if you are looking for good quality traffic and an ad network you can trust (and learn from!) we invite you to visit Traffic Nomads website and or register directly here.
Once you complete registration, your account is approved within one business day. After approval you can start using Traffic Nomads self-service platform.
#1 Step One | Add Funds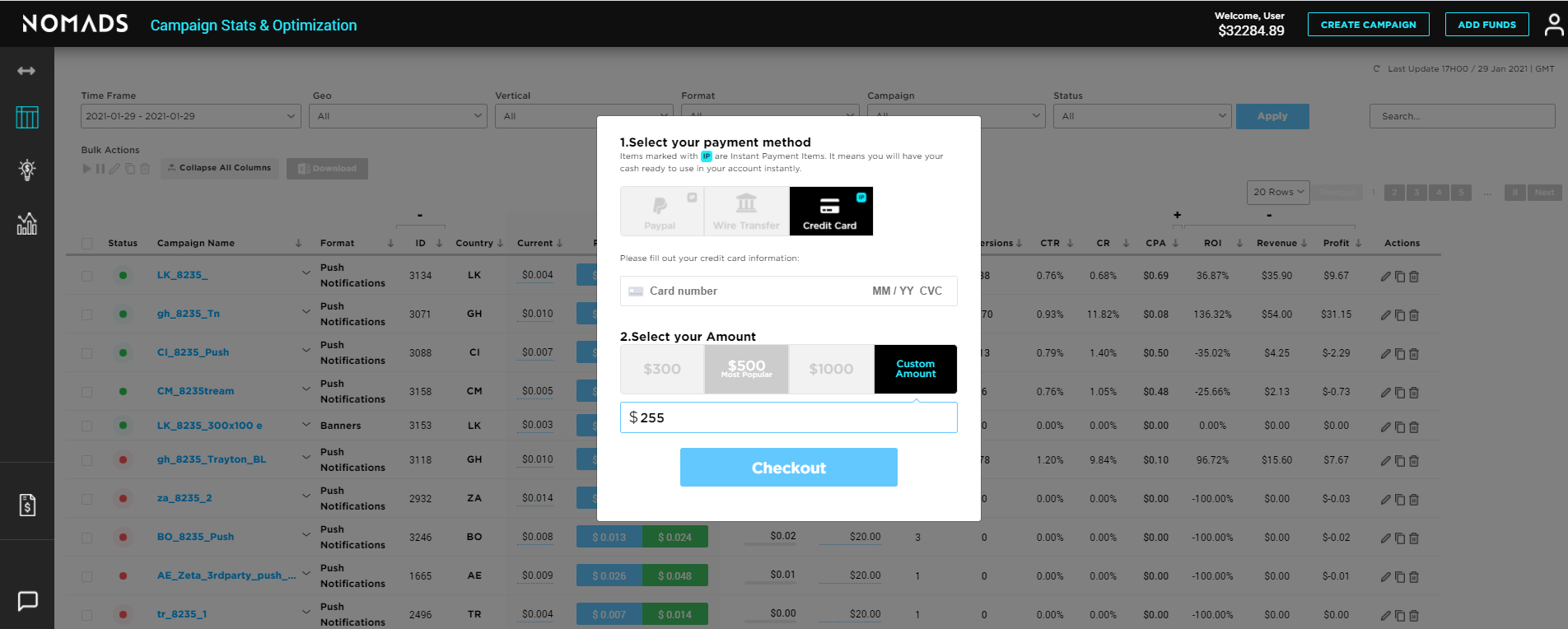 Traffic Nomads works on pre-payment, which means your account should always have funds for your campaigns to receive traffic.
Funding your account is easy. Traffic Nomads accepts credit cards, wire transfers, Paypal, Paxum, Payonner and Capitalist. The minimum funding amount is $50.
Money deposited through credit card, Paxum, Capitalis, Payoneer and PayPal becomes available immediately, while wire-transferred funds are available once received by TrafficNomads' finance department. Invoices are issued at the end of each calendar month with the amount you've spent during that month and sent via email to your finance department.
#2 Step Two: Postback Setup
To receive click ids and source ids automatically in your tracking platform, you should set up our postback and macros. Traffic Nomads is already integrated with some tracking platforms such as Bemob, ThirveTrack and Voluum. If you want to know more about the tracking platforms we work with, visit our tracking partners' news section.
Postback and macros are important for you to read and analyze the information on your platform. Besides, without them, you won't be able to send the conversions/events back to Traffic Nomads platform. Additionally, if you send the event back to Traffic Nomads you will receive media buying and optimization tips to improve or reach ROI.
#3 Step Three: Prepare
If you are a media buyer you know how important it is this phase. Before you create your campaign make sure your URL is not working properly in all browsers and devices. Additionally, do some market research to see how similar advertisers are promoting their products. Once you have some ideas, prepare your material (banners, CTAs,) and write down your strategy and your goals for your test. Remember that all ad networks are different so be ready to adapt. If you need any ideas, get in touch with Traffic Nomads team for suggestions.
#4 Step Four: Create Campaign
Once your URL is ready it is time to create your first campaign. The minimum budget at Traffic Nomads is 20$ per day, and for each campaign, you can select only one country. Creating a campaign is very simple and intuitive and you will have multiple options to select according to your desired target audience:
Ad Formats:
Push Notifications
In-Page Push
Pops
Banner
Native
Calendar
Advanced Targeting
Geolocation
Connection (wifi, carrier)
Operating System
Device
Traffic type (premium, standard, and remnant)
User activity level
IP range

When you buy traffic on Traffic Nomads you are actually bidding for each click and you are probably competing with hundreds of advertisers. That is why it is imperative to know what is the maximum bid you can pay for each click when you create a campaign. You will be able to change bids later on and even change the bids per source and zone.

After the bid it is time for the most fun part: the ad. This is where you get to be creative. Your ads should be relevant to the audience you are targeting and should always have a clear call to action. Remember to always create at least 3 ads for each campaign to increase chances of success (AB testing). Do small changes on your ads every 10-15 days to keep a good CTR.

Click on "Submit campaign" and .. you're done!
#5 Step Five: Follow up
Pay attention to your inbox after you submit your campaign: you will receive a notification when your campaign is approved and, in some cases, tips from our support team specifically for your campaign. Even though Traffic Nomads is a self-service ad network, you won't be alone and the support team is always there to help you.
If you liked this article and want to dive deeper, read the article How to Test a New Ad Network With Increased Chances of Success.
Are you ready to create your first campaigns?